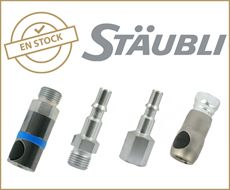 Our stock of Staubli products is growing !
In order to offer you an even faster and more efficient service, we will increase and diversify our stock of the RBE, RCS and RSI Series.
The premium solution for your compressed air fittings
Stäubli is the world leader in rapid connection of fluids and energies. Quick couplings for compressed air or other types of fluids allow users to optimize the performance of their networks while maximizing their safety.
Stäubli compressed air fittings offer many advantages. Their lightness, the easy (dis)connection with one hand as well as the 360° swivel offer remarkable maneuverability and ergonomics.
In addition, the Stäubli Compressed Air range presents the best performance and safety criteria: all the fittings are individually tested for their tightness and their coupling, stainless steel is the basic material which gives them excellent flow rates.
Finally, with Stäubli quick coupling technology, you ensure the long-term reliability of your equipment as well as the non-pollution of your working environments.
Whether for agri-food, automotive, defense and aeronautics, alternative energies, rail, oil industry, machine tools, nuclear, plastics, pharmaceuticals, steel or even motor sports, Stäubli connection solutions are adapted to the requirements of each sector of activity.
Méca-Fluid is your Stäubli dealer. Take advantage of our expertise, our responsiveness with our even larger stock as well as our advantageous prices.
Connection plugs
RBE Series - Adaptable plugs
Standard Stäubli Series RBE couplings are available in sizes 6, 8 or 11. The mode of operation and structure of these fittings allow them to be used on RCS or RSI Series couplers. The different connections (male threaded, female threaded or grooved for rubber hose) offer you the possibility of meeting the different needs of your installations.
Discover our range of RBE plugs IN STOCK
Couplers
With the sealing quality of Stäubli couplers, you optimize the sealing of your networks and therefore control energy production. As a result, you save on energy bills and reduce your environmental impact.
RCS series - the compact safety fittings
"Pleasant to handle, easy to connect and disconnect, the RCS coupling contributes to operator comfort and responsiveness. In addition, with its anti-whiplash technology, it guarantees total safety of use. Its "parking" position allows the disconnected end to "stand by" in the connection and not fall to the ground. Applications: tapping on pipes, connection of pneumatic tools, blow guns and automation on machines, extension fittings. (Stäubli)
Discover our range of RCS couplers IN STOCK
RSI series - fittings with active safety
"Stäubli invents 3-in-1 active safety against the risk of violent ejection of the pressurized hose. With this technology, RSI fittings meet the most demanding needs of operators in total safety. Applications: tapping on pipes, extension fittings, connection of pneumatic tools, blow guns and automation on machines..." (Stäubli)
Discover our range of RSI couplers IN STOCK
---